Custom Search
SANANDA: THE SHACKLES SHALL BE UNLOCKED! / (with Italian Translation)
ESU 'JESUS' SANANDA / Angelo Mazzocchi
(Reposted March 19, 2012)
NOTE: the following is an Italian translation of the above titled article by Angelo of Itay. As a dedicated Lightworker, his mission is to proclaim Truth to his people.
His website is http://www.coachtoheaven.com
We honor him for his work. ---PHB
***********
(NOTE: English version follows the Italian translation)
****************
ITALIAN TRANSLATION
Le catene verranno spezzate.
06/12/2001 Esu " Gesù" Sananda – Ripubblicato il 03/06/2011
Sono Esu presente nella Luce e al Servizio del'Unico Dio. Sono qui a seguito delle vostre invocazioni e per il sommo bene di TUTTI.
Nel vostro mondo, ci sono coloro che vogliono mantenere l'umanità schiava delle catene dell'ignoranza. In questo giorno, sono venuto affinché le catene siano spezzate, che le vostre menti possano essere infine liberate e che le anime possano alzarsi in volo insieme alle aquile.
Le élites che hanno l'obiettivo di creare un Nuovo Ordine Mondiale, stanno lottando per MANTENERE LE LORO POSIZIONI e che tuttavia stanno perdendo giorno dopo giorno. Maggiori sono gli sforzi per realizzare i loro piani di potere per schiavizzare ulteriormente la popolazione mondiale, e maggiormente questi piani si ritorcono contro di loro. Questa cosa continuerà sempre di più e andrà intensificandosi. Il piano Divino, prevede che TUTTI gli uomini del pianeta, siano uomini LIBERI. Tutti i piani di mantenere in schiavitù gli esseri umani, falliranno sempre! Pensare il contrario, è pura follia. Tuttavia, questo è quello che credono quelli che sono al potere spinti dal loro Grande Ego ma che tuttavia non si rendono conto che sono solo dei burattini le cui fila vengono tirate dai maestri della Fratellanza dell'Oscurità. Nel frattempo, questi Maestri dell'inganno festeggiano queste pagliacciate così prevedibili e destinate al fallimento.
Il risveglio collettivo dell'umanità, sta procedendo COME PREVISTO , nonostante questo non venga propagandato dai vostri media. Forse un giorno, ne verrete informati!! Ho detto forse perché in una società libera, ci deve essere necessariamente anche UN LIBERO SCAMBIO DI INFORMAZIONI VERITIERTE. Questo è quello che accadrà a quella parte di uomini che SCEGLIERA' di vivere per il bene sotto la spinta della loro anima. Io insieme ai miei amici, scuotiamo la testa mentre assistiamo ai trucchetti dei vostri militari e dei cosiddetti leader politici. Essi sono come topi in un labirinto. Ma perché l'uomo spinto dal proprio EGO, deve sempre cercare di DOMINARE E DISTRUGGERE tutto quello che lo circonda? Non potete bombardare donne e bambini e vecchi innocenti senza subirne le conseguenze! Davvero pensavate che queste azioni non avrebbero comportato nessuna conseguenza? Andiamo !!!
ESU "GESU'" SANANADA
Questa immagine, deriva da una vera fotografia di Esu Sananada che Egli permise di scattare quando apparve in forma fisica e tangibile a uno dei trenta archeologi che lavoravano nella città di Chichen Itza nello Yucatan il 1 giugno,1961
Io sono venuto con i rappresentanti di Dio della Luce e dobbiamo rispettare le scelte che gli uomini fanno. TUTTAVIA, NON POSSIAMO RIMANERE FERMI AD OSSERVARE LA CARNEFICINA CHE STA AVVENENDO SUL VOSTRO PIANETA! ORA VI AVVERTO, NON SPINGETE QUESTO GIOCO TROPPO IN LA O RIMPIANGERETE IL GIORNO IN CUI AVETE DATO GLI ORDINI CHE HANNO CAUSATO TUTTA QUESTA VIOLENZA. VOI NON SIETE QUELLI CHE MANTENGONO LA PACE NEL MONDO MA SIETE QUELLI CHE NEL MONDO PORTANO LA GUERRA!
SULLA VOSTRA SCIA, LASCIATE SOLO MORTE E DISTRUZIONE MA I VOSTRI PIANI PER IL CONTROLLO DEL MONDO, NON ANDRANNO COME AVETE PREVISTO. SE VOLETE, DUBITATE PURE DELLE MIE PAROLE, MA PARALLELAMENTE AI VOSTRI PIANI, VEDRETE SVOLGERSI DAVANTI I VOSTRI OCCHI ANCHE IL PIANO DI DIO E UN GIORNO STARETE IMPOTENTI E IN SOGGEZIONE DAVANTI A LUI E DOVRETE RISPONDERE DEI VOSTRI ATTI.
METTETEVI BENE IN TESTA LE MIE PAROLE!
L'ho detto prima e lo ripeto : voi uomini della Terra, vi hanno mentito e siete stati ingannati. I vostri media sono sotto il controllo delle élites e non vi dicono la Verità. MA IL VELO DELL'INGANNO, VERRA' PRESTO SOLLEVATO E QUELLI CHE VI HANNO MENTITO, DOVRANNO RISPONDERE DELLE LORO AZIONI.
Se so l'ora del mio ritorno? No, non conosco il momento del mio ritorno. Ma posso dirvi che la mia rabbia sarà giustificata e allora ci sarà la resa dei conti! Non avere paura mio scrivano perché non ti sarà fatto alcun male. Queste mie parole devono essere trascritte e comunicate affinché le persone le leggano e le abbiano a cuore. Sento le vostre suppliche e le vostre preghiere non rimarranno inascoltate. Benedetta gente, voi siete amati aldilà di qualsiasi vostra immaginazione. SAPPIATE che in questo meraviglioso universo, non siete soli. Avete l'aiuto che vi serve e noi siamo sempre con voi. Custodite questa verità nel vostro cuore e sappiate che il Piano di Dio è reale e la giustizia prevarrà.
Sono Esu Immanuel che molti di voi riconoscono come Gesù.Ora il mio nome è Sananda il cui significato è "Tutt'uno con Dio".
Andate in pace.
Originale in inglese : www.wisdomoftherays.com -The Shackles Shall Be Unlocked!- messaggi dal 1996/2000
Angelo Mazzocchi - http://www.coachtoheaven.com
ENGLISH VERSION
The Shackles Shall Be Unlocked!
12/6/01 - Esu "Jesus" Sananda
Esu present in Light and in Service to The One God. I come in response to your petition for the greater good of ALL.
There are those who seek to keep humanity enslaved in the chains of ignorance. I am come this day that the shackles may be unlocked, that the mind may be freed, and that the soul may soar with the eagles.
There is a scramble by your Elite One Worlders, and that scramble is to HOLD THEIR POSITION, for it is slipping from their grasp, more with each passing day. The harder they try to implement their plans of power, and to further enslave the population, the more quickly their plans are backfiring upon them. This shall continue; yeah, it shall escalate.
God's Plan is for the WHOLE of humanity to be a FREE people. All plans of enslavement for God's people shall always fail. It is foolhardiness to think otherwise.
But so it is with the Big Egos in positions of power. They are but puppets on a string, dancing to the Dark Brotherhood's rhythms. All the while the Master of Deceit laughs at the antics which are so predictable, and so doomed to failure.
Collectively the awakening of mankind is ON TARGET. You don't hear about that in your controlled media. Perhaps one day you shall. I said: Perhaps one day you shall! For in a free society there is also a FREE EXCHANGE OF TRUTHFUL INFORMATION. And so it shall be for those of humanity who make the CHOICE to live in accordance with the Goodness within man's soul.
My compatriots and I shake our heads as we watch the antics of your military and political so-called leaders. They are like rats in a maze. Why is it that man, in his EGO, must seek to DOMINATE AND DESTROY all around him? You may not bomb innocent women and children and old men without consequences. Did you really think there would be no consequences for such actions? Come now.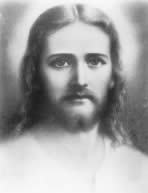 ESU "JESUS" SANANDA
I come with God's representatives of Light. And yes, we must allow man his choices. BUT WE DO NOT NEED TO STAND BY AND WATCH AS THE SLAUGHTER OF MANKIND IS UNLEASHED UPON THE PLANET.
I AM WARNING YOU NOW: DO NOT TAKE THIS TOO FAR, FOR YOU SHALL RUE THE DAY THAT YOU GAVE SUCH ORDERS FOR VIOLENCE.
YOU ARE NOT THE PEACE-KEEPERS FOR THE WORLD; YOU ARE THE WAR-MAKERS FOR THE WORLD.
YOU BRING DEATH AND DESTRUCTION IN YOUR WAKE, AND YOUR PLANS FOR CONTROLING THE WHOLE OF THE POPULATION SHALL NOT GO AS YOU FORESEE. TEST MY WORD IF YOU DARE, BUT YOU SHALL ALSO SEE THE UNFOLDING OF GOD'S PLAN BEFORE YOUR EYES, AND YOU SHALL STAND HELPLESS, AND RESPONSIBLE, AND IN AWE!
MARK MY WORDS WELL.
I said it before and I shall repeat my words: You-the-people are being deceived and lied to. Your media is controlled and is not telling you the truth. THE VEIL OF DECEPTION SHALL SOON BE LIFTED, AND THOSE WHO HAVE LIED TO YOU SHALL STAND ACCOUNTABLE FOR THEIR ACTIONS.
Do I know the hour of my return? No, I do not know the hour of my return. But I may tell you that I am righteous in my anger, and when I do return there shall be a reckoning.
Do not be fearful, scribe, for no harm shall come to you. These words must be written so that people may see my words and take those words to heart. I hear your pleas, and those prayers shall not go unanswered.
Blessed people, you are loved beyond your ability to comprehend. KNOW that you are not alone in this magnificent universe. There is help, and we are here!
Hold this close in your hearts, and rest in the knowledge that God's Plan is real, and justice shall prevail.
I am Esu Immanuel, who many of you have known as Jesus. I am known now as Sananda, which is a level of accomplishment meaning "One with God".
Go in peace.